Intrinsic fever immune system
Overview
Theory
Advantages
Parameter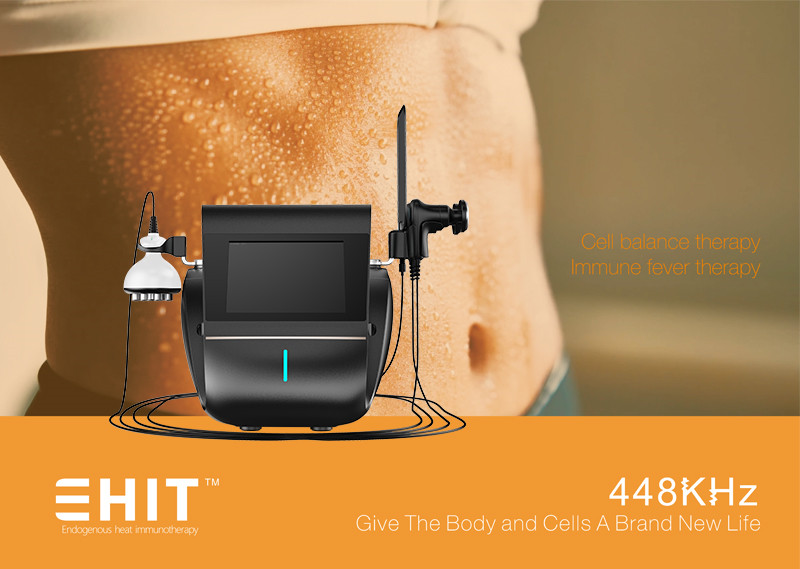 It is the unique system that stimulates intra- and extracellular ion exchange restoring physiological cell electrical activity, which enables the correct functionality of the cells.
Based on the 448kHz frequency which is the key of our active cell therapy, it activates biostimulation,stimulates microcirculation and promotes metabolic hyperactivation, while respecting cell physiology.
The 448kHz frequency enhances ion mobilisation through the intra- and extracellular matrix that restores the permeability of cell membrane potential.
The cellular electrical balance optimises tissue recovery by supplying oxygen and nutrients. Through the body´s natural blood supply, The circulatory activation (microcirculation and vasodilation) stimulates proliferation and fibroblasts activity generated by collagen.The result is tissue regeneration promoted by the 448kHz frequency.
Reliable temperature control
The built-in high-precision temperature sensor is evenly distributed in energy and does not require frequent inspection of the temperature of the tissue, which has high accuracy and high stability. The resolution is 0.01℃ and ±0.03℃, which can realize real-time temperature control based on monitoring data.
Advanced heating method
The unique design can heat the subcutaneous and deep skin tissues evenly, and increase the
temperature of all parts of the body, thereby avoiding the risk of burns caused by local skin high temperature, it is automatically eliminating energy concentration to ensure energy distribution uniformly.
No damage to normal cells
It has no side effects and no damage to other tissues, it safely helps the body metabolize waste, carbon dioxide and lipid junk cells in fat.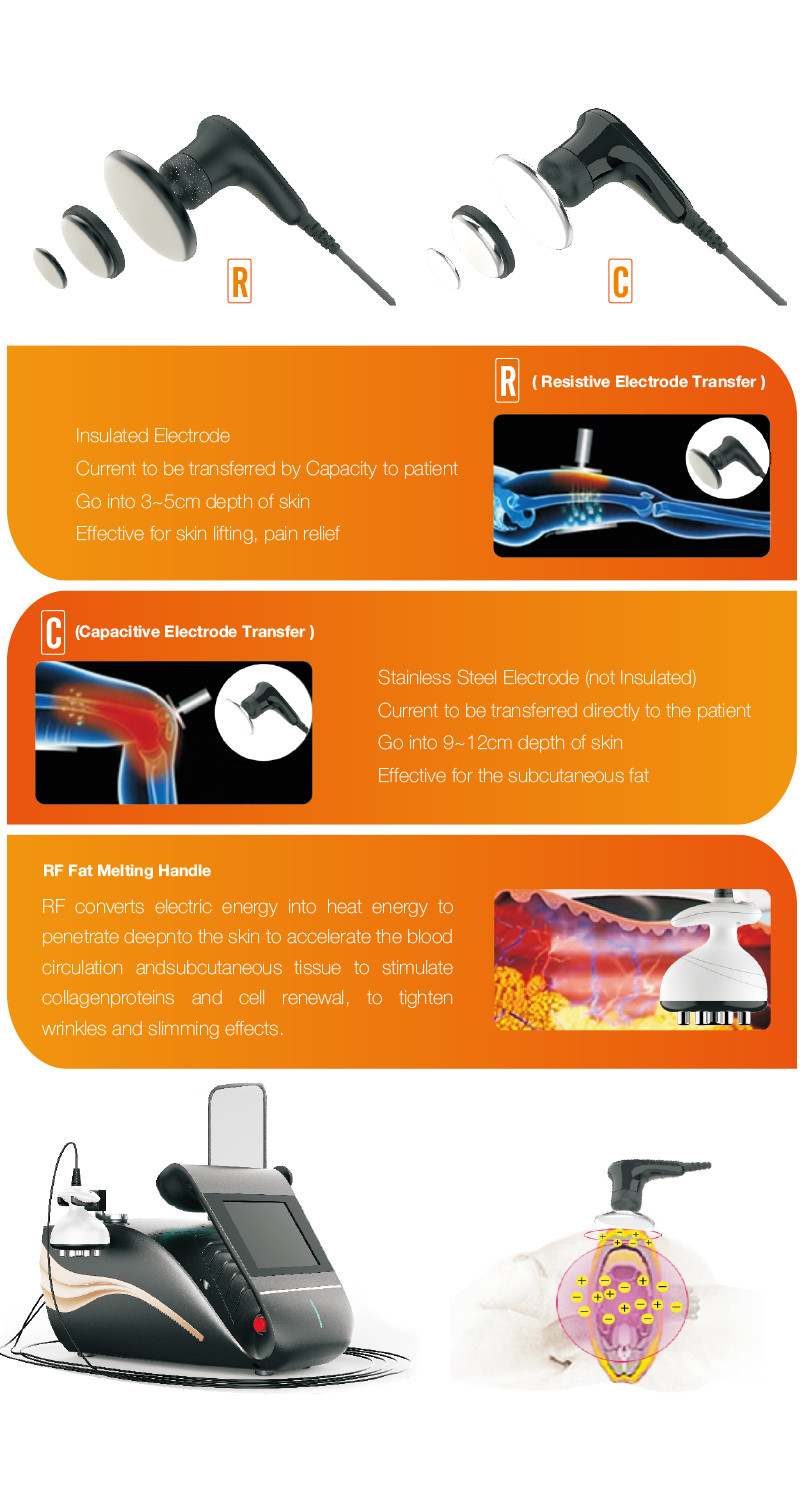 One treatment + triple effect
Rapidly increase metabolism, help tissue detoxification and drainage, stimulate fat decomposition, generate new collagen and stimulate heat shock protein.
Non-thermal mode
Activate metabolism, provide more nutrients for fibroblasts, and accelerate collagen and elastin synthesis.
Warm mode
Increase blood flow rate, help cells replenish oxygen, help metabolize waste in the body and promote metabolism.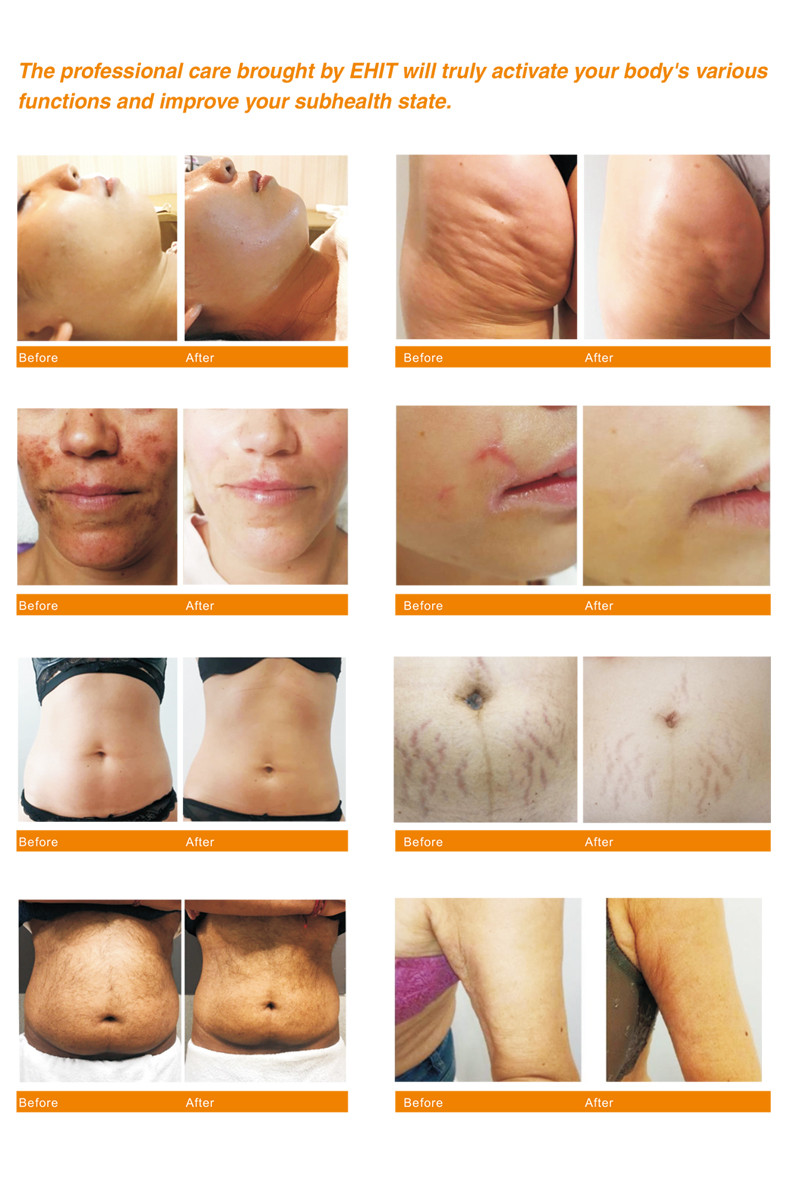 Write your message here and send it to us